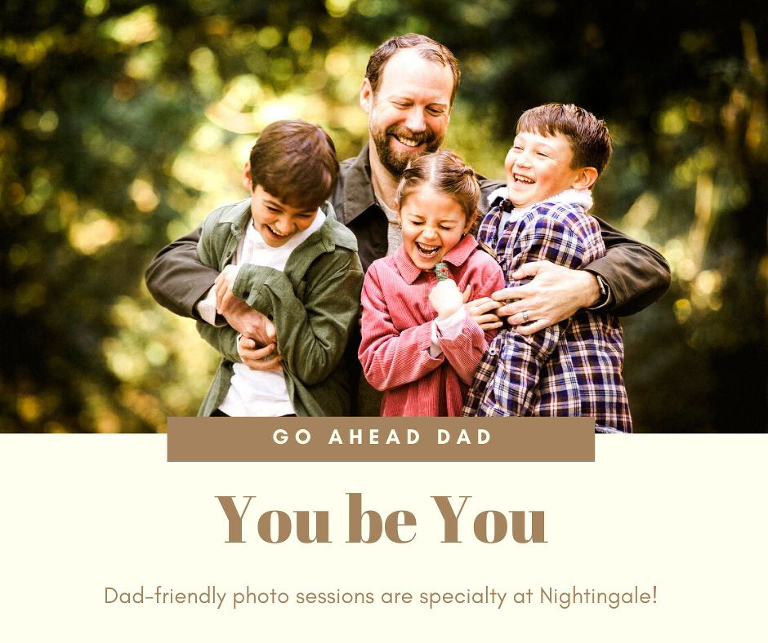 I can usually tell when a Dad is a little less than enthused about being in a family photo session. I get it. Getting up early. Dressing up. Wrangling your kids into cooperating. None of it is high on your list of ways to spend the weekend.
But these Dads obviously love their partners and children, and are willing to do what it takes for a successful photo session. 

Here's the best part: Dads don't have to sit still and make a forced smile for the camera.

In fact, it helps tremendously when they jump in full-hearted and play with their kids. I'll often ask kids to go give Dad a bone-crushing hug, sneak up and "surprise" him, or dance with him while standing on his feet.

When Dads realize they can be their natural selves and just enjoy their families, I see them getting engaged in the photo session. 

And for what purpose?

Memories of the special bond that kids have with their fathers. A quiet moment of a little one holding Dad's finger. The silliness of wrestling Dad down on the ground.

And I'm there to capture that special magic only Dads have.

So go ahead get silly. Your kids will love that picture of you some day! When you are ready for a family photos session in the San Francisco Bay Area photo session, I'd love for us to connect so I can hear more about your story. Happy June!