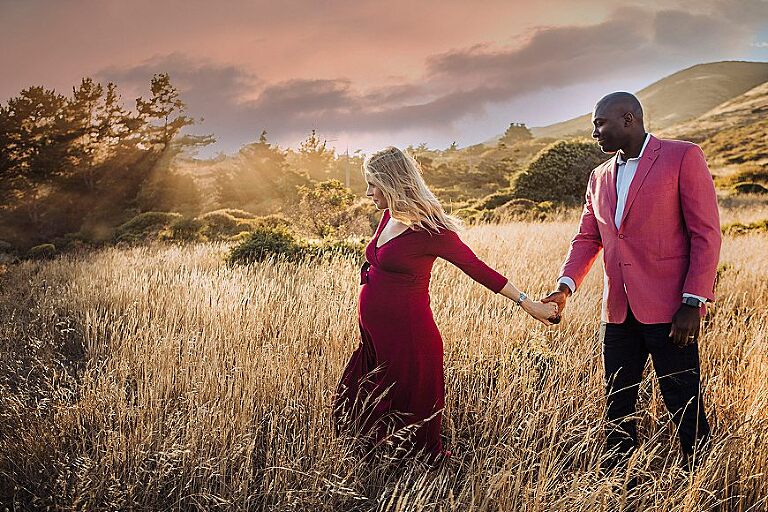 Wondering when the best time for a maternity photo session is? As a San Francisco Bay Area pregnancy and maternity photographer, it is a question that I am asked all the time! As a general rule of thumb, maternity portrait sessions are usually done between 28 and 36 weeks (seven or eight months of pregnancy).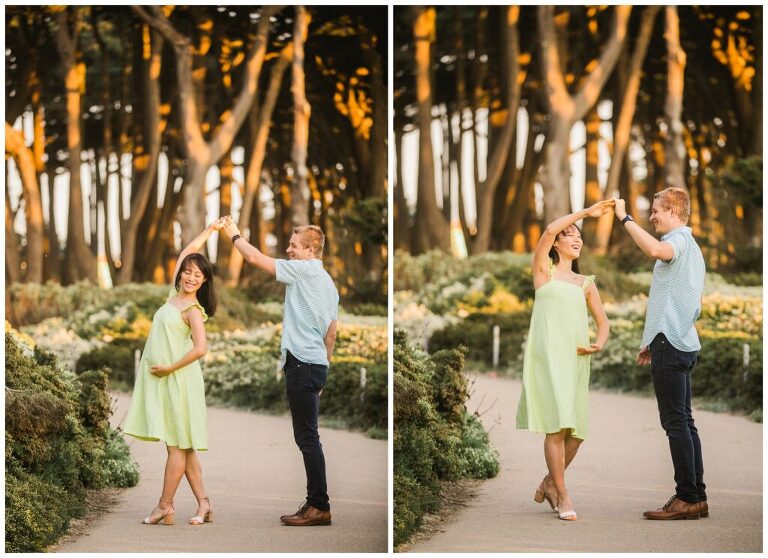 Which Month is Best for a Pregnancy Photoshoot?
We need to wait until the tummy is fully round to get those quintessential photos. Too early on in the pregnancy, and it's hard to see its full definition. In addition, Mom still feels comfortable enough for a portrait session. Maternity dresses hang best at this stage, as well, and hey, your shoes may still fit! 🙂
If we wait too long, you might start feeling physically uncomfortable, tired and really not in the mood for a portrait session. In addition, as a lifestyle photographer, we walk around the locations, usually in nature, so I want everyone to feel safe, secure and really enjoy this experience.
There are some exceptions to this rule
Multiples: If you are having twins or multiples, you will certainly get bigger before the stated time above. Let's go ahead and book you in between 16-24 weeks.
Baby shower invitation or pregnancy announcements:  If you're looking to use your maternity photos for baby shower invitations or an announcement, let's get photos of you at week 27 or 28 . This will allow you to get your gallery back, choose your favorite images and have the cards printed.
Prior Pregnancy: If you've been pregnant before, then YOU know your body better than anyone. You can tell me when the best time is for you.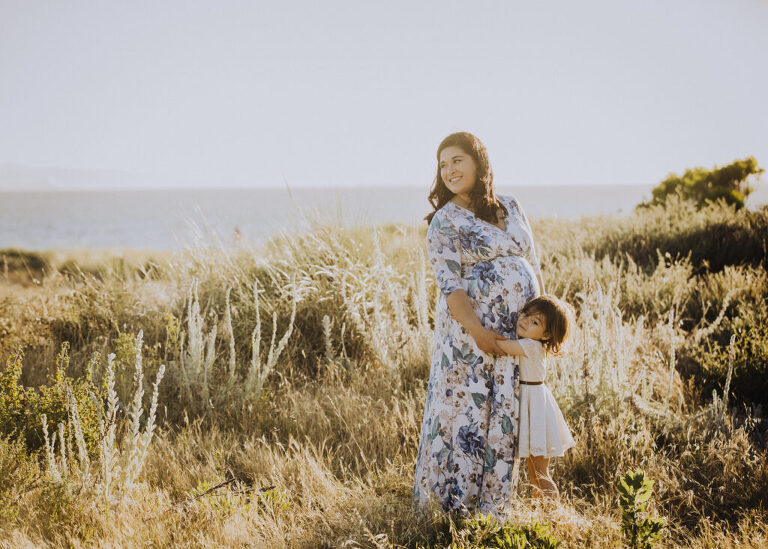 ---
What Should I Wear to a Maternity Photoshoot?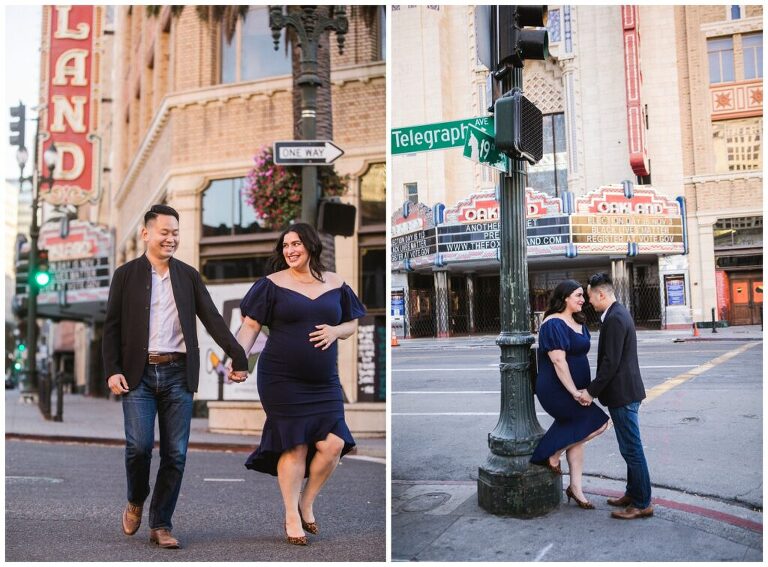 Stick with solids or small prints. We want the focus on your joy and body lines. Clothing can help with this.
Celebrate colors. If you are comfortable with color, play with it. Think of your home decor. Would a certain color clash with your interior design style or elevate it? If you are a neutral gal, whites or pastels are classics.
Timeless is best. If you're investing in quality maternity photos, you don't want to look back in 20 years thinking "why was I wearing that?!" because something is now out of style. That's why I prefer just a simple flowy dress and sticking to a color palette that will stand the test of time.
Wear a dress: Most women photograph best in a dress for their maternity photo session. A flowy maxi with long arms and a low neck if the universally most flattering cut. But, if you have a cute, form fitting knee length dress, let's do it!
Go seasonal. Is it spring? Choose soft, pastel colors. Is it winter? Go with light blue and white, crisp and chilly. Is it summer? Add a sun hat. Is it fall? Find a flattering cardigan or scarf.
Avoid being too matchy-matchy with your partner. Coordinating your outfits is great, especially for a photography session, but don't match. Visit Pinterest and search palettes to find complimentary colors for you and your partner. Lay everything out on the bed together. Think of it as one outfit. You want the colors and tones to go well together. You don't want to have too many conflicting patterns in there. Don't forget to throw in a few accessories to make it interesting and just have fun with it! It's also a great idea to go with a color palette that will complement the style of your home.
---
Should I Get Maternity Photos?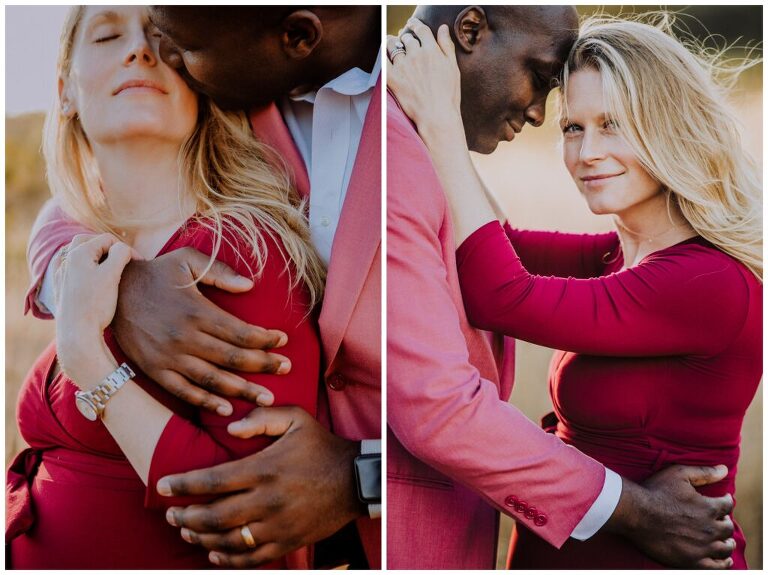 As a mother myself, my pregnancy was absolutely one of the most miraculous experiences of my life. My body grew my daughter, nourished and brought her into the world. A professional maternity session honors this milestone. I love looking back to see what I looked like 23 years-ago, and my daughter might adore the photos even more! She didn't know me when I was that age, my hair that long, my body that round. It is a gift for you but also for your kids down the road and their kids.
From an writer who reminisced about choosing to forgo a session, she wrote" I'm not planning on having any more children, so I know I missed my opportunity. Pregnancy is one of the most special and meaningful times in our lives, and it goes by in a flash. I wish I'd had the confidence back then to embrace my pregnant body, ignoring that little voice in the back of my head warning me about my double chin and cankles. I wish I could share some pictures with my children of what I looked like—really looked like—when they were in my tummy. I wish I had the photographic evidence that could show them just how much love I felt for them, even before I had laid eyes on them."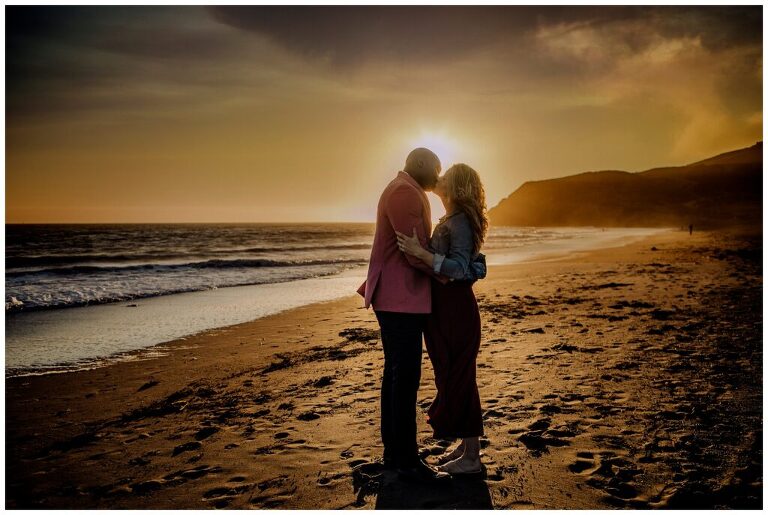 ---
Let's Make this Happen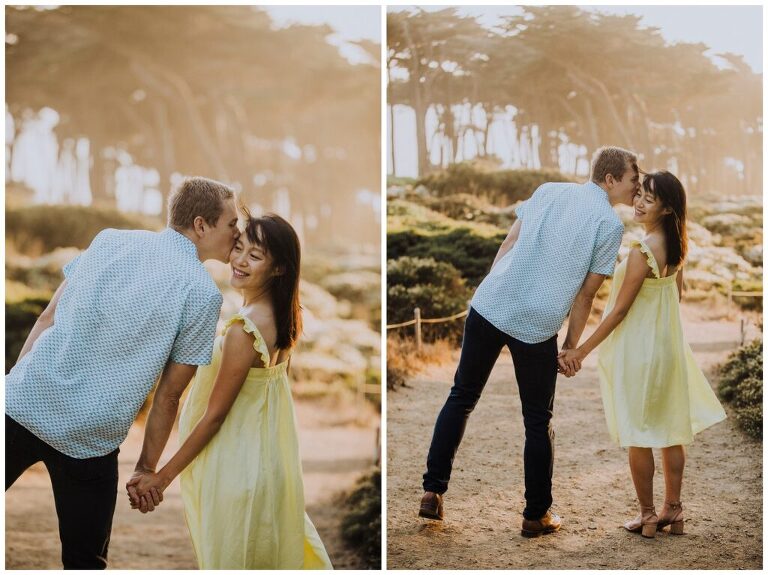 So, before your life takes a dramatic turn with a newborn, wouldn't it be nice to take time for memorable portraits? I guarantee that they will be cherished for a lifetime and by generations to come. A maternity photo session is a great way to document your journey into motherhood. It can capture your story, experiences, and where you are now.
Through your maternity photos, you can show how incredible your body is and what it is capable of. More importantly, these photos capture such a special moment in your life, allowing you to look back and enjoy them in the future. 
If you are interested in timeless maternity photography that will beautifully document your parenting journey, I recommend that you contact me as soon as possible. As a San Francisco Bay Area maternity, newborn and family photographer, working with moms and families is my passion. I work closely with each client to create their perfect portrait session with an emphasis on relationships and authenticity.
I offer photo sessions at some of the San Francisco Bay Area's most beautiful locations. Clients who live in the East Bay, San Jose, Walnut Creek, Oakland, the Peninsula, San Francisco, or even Santa Cruz hire me to tell the story of their growing family. 
Ready to inquire about booking your portrait session? Sooner the better! Can't wait to hear from you and congratulations! Christina